With that in mind, here are 7 ways that can help you grow your following faster and more effectively :
Your name should be the one your business is most commonly known by, to avoid any confusion. Your profile picture should be aesthetically pleasing, and should scale down well, so it's striking and coherent at a small size. Keep in mind that that the eventual picture displayed will be circular. And finally, your bio should give the viewer an idea about what your brand does and what its personality is like.
Hashtags are the connective tissue that brings users together on Instagram. Instagram's search function is based around hashtags, which is the main way to discover content. If you aren't using hashtags, it's harder for people to find your account if they don't already know your username. Don't just slap any hashtag in your captions, though. Make sure they are relevant to your content, or your posts may be ignored or even reported as spam.
Some businesses create their own branded hashtags. Often these hashtags are attached to a specific marketing campaign. If you can get enough followers to use it, you could get it trending and pull in new followers.
3. Develop a unique, identifiable style.
I know this sounds like one of those 'blah, blah, blah' ways to gain followers on Instagram. But it isn't. Here's why: people don't follow you because of the content you've posted but because of what they think the future content you'll post will be like.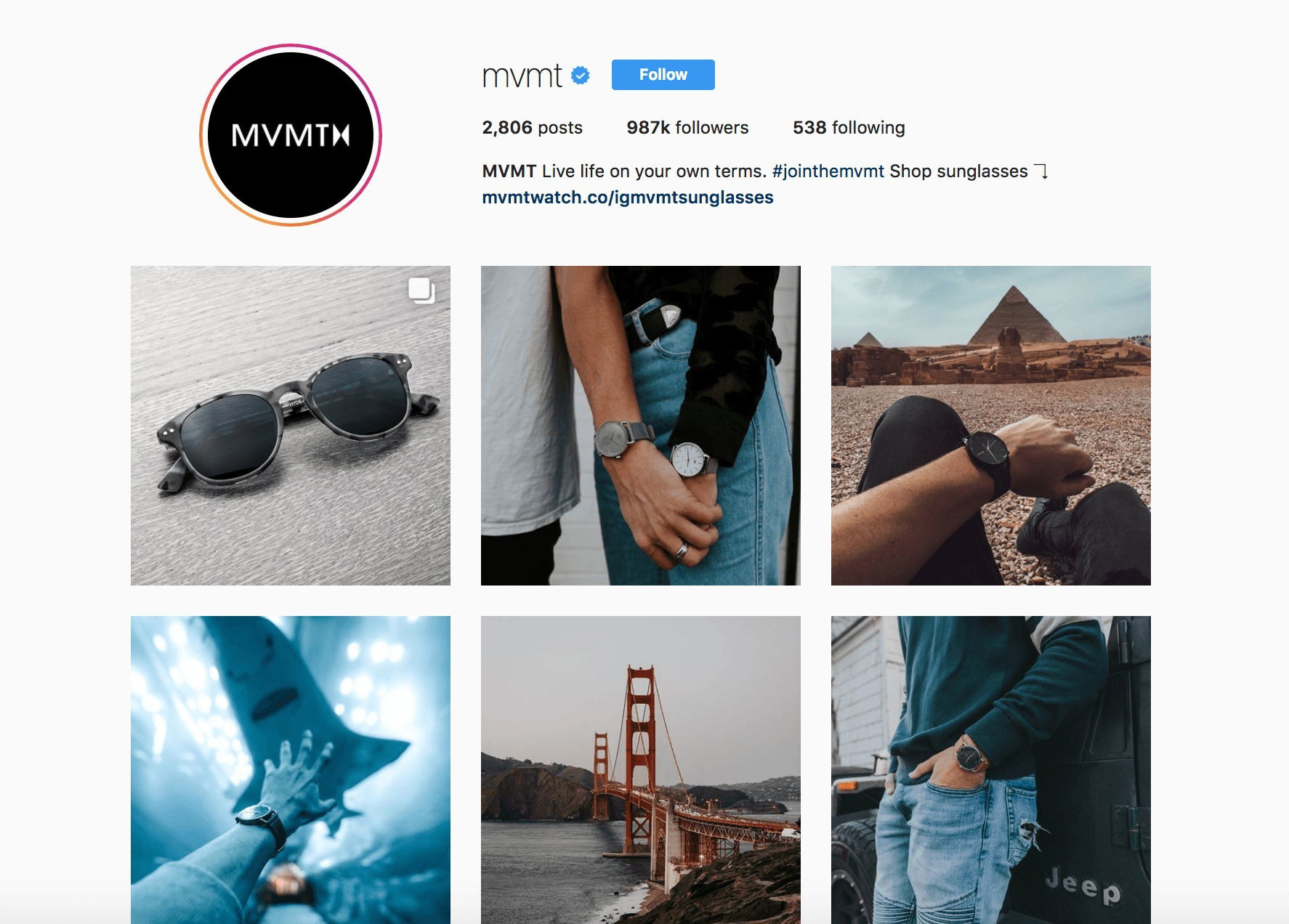 Say you have a corgi fan page, every day you post cute corgi pictures and videos without fail. If Instagram users keep seeing your posts eventually they'll realize that you always post the cutest corgi content. So they follow you with the expectation that your account will always be more of the same type of content.
Having a consistent style or theme is more than just a branding play, it's about creating an expectation for your Instagram account that your followers or potential followers can count on. They want to see more of the same type of content, every day.
If you can deliver that consistency with every post, you'll grow your followers on Instagram at a faster rate over time.
4. Demonstrate consistency.
People want to know what to expect when they invest in something. It's why we read product reviews, or watch trailers before we go to movies. For some people, it can be an unpleasant shock to anticipate one thing and get something else entirely. That's why many tend to play it safe with their choices.
Consistency is a virtue on Instagram. If people like what they see on your feed, they'll follow you to get more of it.
Try to make each post flow into the next. Ensure there are recurring themes across your content. Maintain a similar tone and voice that the viewer can associate with your brand.
5. Follow people who like competing Instagram pages.
To get that Instagram followers increase you need to find people who follow brands. Who are your biggest competitors on Instagram? Write them down. Then, browse their posts to see who's commenting on their posts. Follow them and engage with them.
Keep in mind that when choosing competitors on Instagram it's better to go for the smaller brands. Why? Because if you were selling makeup brushes and trying to get people who comment on Sephora, there's a good chance that they're not the right audience despite being in a similar niche. Bigger brands tend to have more customer loyalty.
However, if you have a competitor who has 100,000 fans on their page, they may not have a loyalty to that brand.
When commenting on posts of those you follow, don't scare them off with a sales pitch or the same comment for every person you message. If they ask a question on their post, give them an answer. Look at the types of comments others are giving and use that as a guideline for what you can comment too.
As you keep engaging and following people, you'll start to amass a strong following of your own.
6.Put effort into your captions.
Think of captions as important supplementary material. A great caption can enhance a viewer's experience with a post.
For one thing, you can use the captions to give your audience some context to the post. You can give them information about how it was made or your intent behind creating it.
Another approach is writing something amusing to make your viewer laugh. The majority of viral content on the internet is humorous.
7.Target a niche audience.
When you want to amass a sizable audience, your natural instinct is to try to appeal to as many people as possible. Yet it rarely works out that way.
The problem is that people have vastly different tastes and preferences. In order to appease everybody, you have to make your content blander, and run the risk of appealing to no one at all.
Meanwhile, specificity in marketing tends to provoke a deeper response. It makes readers feel you are speaking directly to them and their experiences. That's why niche audiences tend to be more passionate and dedicated to certain brands.
Conclusion
When it comes to Instagram for your business or brand, organic is the way to grow. It may take a little longer than buying followers, but rest assured, organic growth will yield better results in the long run. To really help foster organic growth, remember these key points:
Have an identity. A clear profile pic, bio, and a distinct style in your feed will all help get you noticed and garner follows.
Connection is key. Engaging with your followers and other accounts in your niche is one of the most effective ways to grow organically.
Help people find you. Using hashtags and adding your location to posts can help Instagram users find your account.
At Onlinetraffico, we can help you make your social media goals become a reality in a realistic and sustainable way. We're committed to helping you determine the best practices and approach for your specific brand so that you can grow Instagram followers fast!